PACIFIC HEARING INC
Patient Stories
"I knew I was in good hands." – Sue Allison Story
Sue found herself struggling with conversations. She recalls she had to keep "asking people to repeat what they had said."
Upon visiting Pacific Hearing, Inc., Sue was impressed with their "caring and proactive" approach to treating her hearing loss. "I knew I was in good hands," she says.
Hearing aids have made a significant improvement to Sue's daily life. Besides smoother conversations, she says her devices have "kept me involved, and I continue to enjoy classical music at its fullest capacity."
Sue rates Pacific Hearing, Inc. a 9/10 and says she really appreciates "the dependability and knowledge of all the staff." She encourages prospective patients to make an appointment, saying, "Go try it out."
"He's just a really caring guy and a wonderful audiologist" – Sarah's Story
Sarah lost her hearing when she was three years old when was misdiagnosed and operated on by a surgeon that severed a facial nerve, paralyzing the right side of her face and resulting in her instantly losing her hearing.
After seeing many audiologists throughout her life, she was introduced to Dr. Gregory Frazer at Pacific Hearing Inc. when she was 18 by her grandma who had been a long-standing patient.
"He's a thinking audiologist, working in an intelligent and professional manner" – Dr. Rachelefsky's Story
Dr. Rachelefsky first met Dr. Gregory Frazer when working alongside him to support patients with sinus and nasal disease around 25 years ago, with his first experiences of hearing loss occurring five years prior.
But ten years later when feeling frustrated with his current hearing care provider, Dr. Rachelefsky shared his challenges with his physician and was referred to
Dr. Greg at Pacific Hearing, Inc.
"He goes out of his way to make appointments for people who don't have normal hours" – Dr. Beroukhim's Story
Dr. Beroukhim immigrated to America due to an infection, which resulted in her losing much of her hearing. She first visited Dr. Greg, as he was one of the only audiologists on Los Angeles's list that she could use her UCLA insurance with.
As a fellow medical professional, Dr. Beroukhim shares how Dr. Greg regularly shares scientific articles to questions and is always at the cutting-edge of developments in the world of hearing care.
"I was overwhelmed by his kindness, sensitivity, and care toward me" – David's Story
David's first experience of a hearing challenge was in 2000, when he first realized that he had to adjust his television set to a much higher volume than the rest of his family.
This resulted in him visiting his physician and learning that he had an acoustic neuroma that required surgery. Following surgery, David lost his hearing in his left ear, with his remaining hearing in his right ear continuing to diminish over time. 
"He'll do whatever it takes to make you successful" – Cheyenne's Story
Cheyenne is a 21-year-old student that has been seeing Dr. Greg since seventh grade. Her first encounter with Dr. Greg was different to what she had normally experienced with other audiologists, having had hearing challenges since fourth grade, and numerous hearing assessments.
She shared how she "learned the system", commenting on how memorization of speech tests became her way of outsmarting the system.
"
If you are experiencing hearing challenges and you're looking for the right experts to work with then it's your lucky day

" – Linda's Story
I first experienced a hearing challenge when I had a really bad cold that went into my right ear, I had never been sick, never taken a day off from work due to illness, so ignored it and so after two weeks finally got well.
I went to ear specialist because my ears kept hurting and was told I had hearing loss! I had tried everything to try to get rid of ear pain, herbs, acupuncture, light treatments, cone to clean out ears…ears still hurt!…..
"You must go there." – Gail Thill
Gail suspected she had a hearing loss when she found it difficult "taking messages on the phone at work." A comprehensive hearing assessment at Pacific Hearing, Inc. soon confirmed her suspicion.
During her appointment, Gail answered several questions about her health, lifestyle, and the challenges she was experiencing. She then took a few simple tests, which revealed she did in fact have a hearing loss. She describes the Pacific Hearing, Inc. team as "very patient and considerate."
Gail says her new devices "make certain things so much easier and enjoyable." Thrilled with her experience at Pacific Hearing, Inc., she rates them a 10/10, adding, "You must go there."
"The experts I could count on." – Raymond Schuldenfrei
Raymond wasn't aware that he had a hearing loss, but he says, "My wife mentioned that I often ask people to repeat what they said."
Wanting to see if his hearing loss could be treated, Raymond made an appointment at Pacific Hearing, Inc. He was impressed with the team and the comprehensive hearing assessment he received and says, "I recognized they were the experts I could count on."
Raymond loves his new hearing aids and notes they are "comfortable," and he feels more "confident" wearing them. "I can't live well without them," he adds.
Giving Pacific Hearing, Inc. a 10/10 rating, he says he likes how "they are constantly working to improve my hearing." Raymond encourages anyone considering an appointment to give them a try, saying, "Don't wait!"
"Craig, along with Sheila, will help you out." – Bonnie Johnstone
Prior to seeking help for her hearing loss, Bonnie says she experienced lots of "frustration" when talking with others. She felt that she was "missing out" on the action around her.
Bonnie's first impression of Pacific Hearing, Inc. was that everyone was "friendly." She particularly appreciates the "months of patience in working with me" as she adapted to better hearing.
Rating Pacific Hearing, Inc. an 8/10, Bonnie encourages others, "Go. Craig, along with Sheila, will help you out."
"Life changing." – Tom Binder
When Tom visited Pacific Hearing, Inc. for a comprehensive hearing assessment, he says he was impressed with the "extremely professional" team and that he absolutely loved the staff that cared for him.
Getting hearing aids has been "life changing" for Tom. He rates Pacific Hearing, Inc. a 10/10 and shares that having your hearing loss treated by them is "an absolute must."
"Lifelong friends." – Richard Hubacher
Richard became concerned about his hearing when "I could not hear on the telephone."
Knowing that something wasn't right, he made an appointment with Pacific Hearing, Inc. in hopes of getting to the root of his hearing troubles. He says his first impressions were that the team was "friendly" and "efficient."
Following his comprehensive hearing assessment, Richard's hearing loss was explained to him, and hearing aids were prescribed. Richard says his new devices have "vastly improved" his telephone conversations and overall hearing ability.
Rating Pacific Hearing, Inc. a 10/10, he wants potential patients to know that "Pacific Hearing is completely trustworthy," and he considers them "lifelong friends."
Addressing your hearing challenges or a loved one's hearing is a difficult decision to make, with many options available to you and lots of conflicting information.
That's why we have a team of hearing experts on hand to help.
Simply complete the form and one of our experts will call you for a friendly no-obligation conversation to answer your questions and offer you their experienced guidance.
Don't want to wait? Call us at: (310) 909-0180
Gregory Frazer, AuD., PhD
Doctor of Audiology, PhD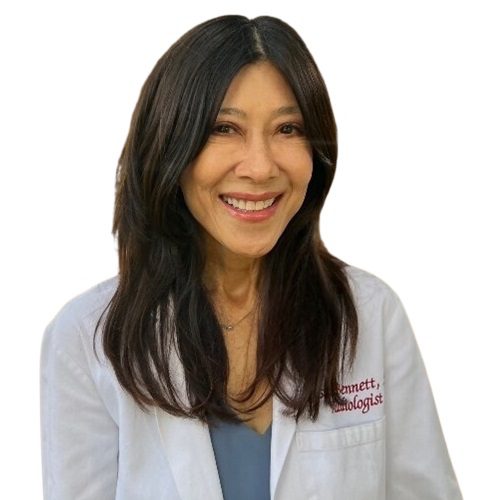 Carissa Bennett, AuD.
Doctor of Audiology
Kathy Harlan, M.A.
Masters in Audiology
Julie Skille, AuD.
Doctor of Audiology
Sofiya Krauss, AuD.
Doctor of Audiology
Sheila Shalom, AuD.
Doctor of Audiology
Reginald "Reggie" Arevalo, AuD.
Doctor of Audiology
Rachel Abucasis, AuD.
Doctor of Audiology
Jacob Hohsfield
Au.D Intern
Ingrid Landaverde
Medical Receptionist
Sandra
Medical Receptionist
Lesly Alvarenga
Back Office Medical Receptionist
Cheyenne Newallis
Audiology Aide