PACIFIC HEARING INC
VEMP Testing
Your VEMP Testing Center in Los Angeles
If you've experienced dizziness, vertigo, or unsteadiness on your feet, then you are well aware of their debilitating and confidence-shattering effects on your daily life.
Whether you're lying in bed and have the sudden sensation of the room spinning, leading to nausea or vomiting, or you're more prone to falling or losing your balance than you used to be, you could be dealing with any number of conditions related to the vestibular dysfunction.
Vestibular dysfunction involves problems related to inner ear functions and other peripheral systems, or how your brain processes signals related to balance, both of which are cause for concern for our audiologists at Pacific Hearing Inc.
To assist us in diagnosing conditions related to dizziness, vertigo, and balance, so we can provide the best form of treatment, we use a new advanced technology known as VEMP (Vestibular Evoked Myogenic Potential) testing.
The staff here was excellent all the way through from helping to schedule my appointment, to checking me in, to performing the VEMP test, and quickly submitting the results report. The audiologist that performed the test was extremely patient and thorough as he was explaining the process. The office that could perform this particular test wasn't necessarily very close but it was worth the drive given the service provided and finally helping to identify the underlying medical issues.
I was referred to Dr. Frazer at Pacific Hearing by my partner. I couldn't be happier with their professionalism and service. I get their full attention and they carefully listen to my issues. When I have had problems, they have been quick to get me in to make sure I am well cared for. It is a delight to deal with medical professionals who are attentive and caring. I recommend Pacific Hearing without reservation!
Why Pacific Hearing Inc Uses VEMP Testing
Falls related to a loss of balance are responsible for about 50% of fall related deaths among the elderly, and about 90 million Americans complain about dizziness or vertigo during doctor's visits each year.
Dizziness or faintness, feelings that the room or your surroundings are spinning around you, or losing your balance while walking or changing positions, are signs often related to vestibular dysfunction. VEMP testing is an advanced technology tool used to aid our audiologists in diagnosing the cause of dizziness, vertigo, balance disorders, and other forms of vestibular dysfunction.
VEMP test results are used to help identify the causes of your dizziness, vertigo, or balance disorders so that we can apply therapy or treatment that targets your unique condition.
VEMP Test: What to Expect
The VEMP test procedure is relatively simple. After attaching sticker electrodes to your head and neck, seating you in a reclined position, and inserting headphones into your ear canals, your audiologist will ask you to turn your head and contract your neck muscles, and face forward and raise their gaze 90 degrees upward.
As you do these, you will hear tapping sounds
The reflex response of those tapping sounds are what is being measured during a VEMP test.
Once testing is finished, your doctor of audiology will present you with the results, explain what they mean, and discuss therapeutic options or interventions to improve your condition.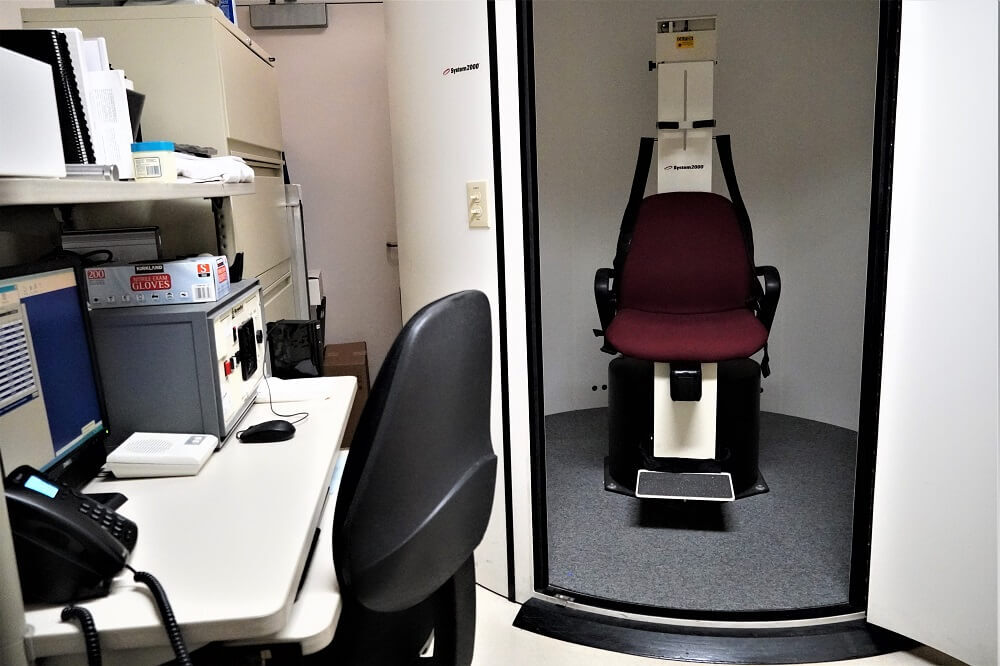 Frequently Asked Questions About VEMP Testing
1. How do I prepare for VEMP?
VEMP test preparation is important in order to get the best and most accurate results. Eating prior to the test is okay, but you're advised to eat only a light meal. Similar to other balance-related tests, the consumption of medications, drugs, or alcoholic beverages within the 48-hours prior to testing may produce inaccurate results.
We recommend wearing loose fitting clothing for your comfort during testing, but refrain from applying skin lotions, moisturizing creams, makeup, mascara etc., to your face the day of the testing.
2. Is the VEMP test safe?
VEMP stimuli have the potential to cause NIHL (noise induced hearing loss) due to high sound exposure levels, but our audiologists are well aware of the risks and use safety protocols to prevent this risk to our patients.
3. What does the VEMP test diagnose?
The VEMP test determines if the utricle, saccule and, superior/inferior vestibular nerves are intact and working properly. When functioning correctly, they work together to send signals to the muscles of the eyes in response to head movements. Improper function leads to a diagnosis of either a peripheral vestibular dysfunction or a center vestibular processing dysfunction.
4. What does VEMP measure?
A VEMP test applies repetitive sound stimulus to one ear and then averages the reaction of the muscle activity or reflex response to each sound click or pulse. These reflexes are known as the vestibular evoked myogenic potential, which is what is measured by the test.
5. How long does a VEMP test take?
VEMP tests typically take 30-45 minutes.
6. Does Medicare cover the VEMP test?
Because VEMP is considered an essential test in accurately diagnosing a dizziness or balance disorder, Medicare does cover this test.
Schedule a VEMP Test
at Pacific Hearing Inc.
The confidence-shattering effect, as well as the critical injury risks, associated with dizziness, vertigo, and balance issues reduce your quality of life and interrupt your independent lifestyle. With advanced technology VEMP testing, our Pacific Hearing Inc. audiologists are better equipped to diagnose and treat these conditions so you can continue your daily routine without worry.
If you or a loved one is experiencing dizziness, vertigo, or balance issues, contact us by submitting the adjacent form in order to find out how our doctors of audiology can diagnose and treat your condition.
You Might Also Be Interested In